Vapon Katana Decoder HU66 Gen2 Auto Pick and Decoder Lockpick Tool Locksmith Tool
Vapon Katana decoder HU66 Gen2 is a quick opening tool for car locksmiths, which can be used to open HU66 car doors. The innovation of the tool is to make the uses as dependent on the tool as possible. It only needs left and right vibrations, and it can open the lock quickly and read the lock easily at the same time. You don't need to invest time in learning complex metrics and using complexity, it will help you solve problems instantly when you get them.
Compatiable With:
Volkswagen
Bentley
Lamborghini
SEAT
Bugatti
Skoda series
Porsche series
Product Advantages:
1. The length of the entire tool is 18.5 cm. Compared with similar products, the user's operation experience is excellent.
2. The design of the afterburner handle improves the opening efficiency.
3. Knob-type opening reduces the force on the tool and reduces the probability of tool damage.
4. Replaceable design. Even if the tool is damaged, customers can replace the parts by themselves, worry-free after-sales service.
5. The price is very competitive compared with similar products.
6. Katana decoder HU66 gen2 – VAG G 2/6 support models from 2004 up to 2017
Product Features:
 
Easy to use and get started quickly
The operation style of Katana decoder series tools is simple and consistent. After a professional locksmith gets the tools, he can get started immediately without learning.  
Knob operation, not easy to damage
Compared with similar products, Katanadecoder uses the working principle of the knob to exert force instead of violent shaking, which reduces the force on the tool and is not suitable for damage.
Vapon Katana Decoder HU66 Gen2 vs. Other HU66 Pick and Decoder: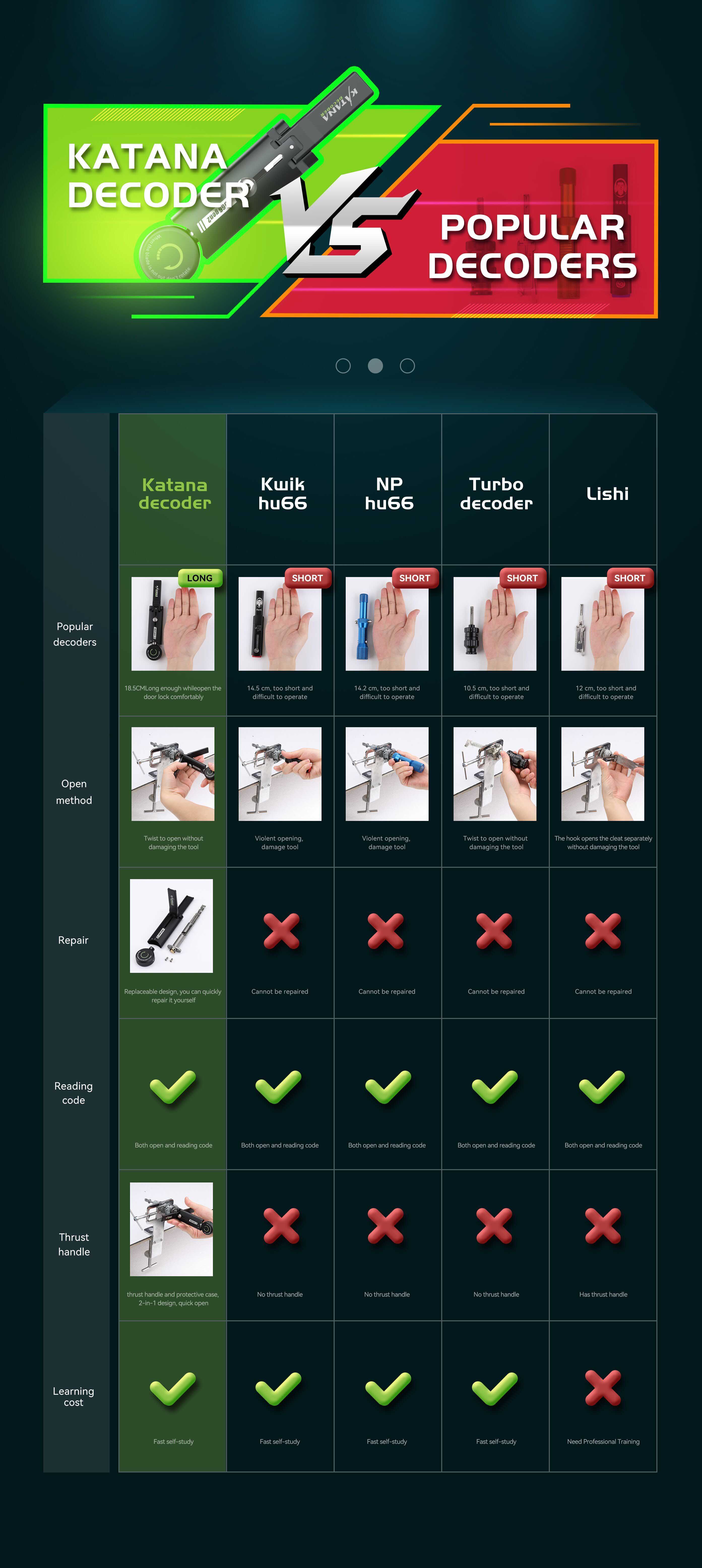 How to Use Vapon Katana Decoder HU66 Gen2?

Package Includes:
1pc x Vapon Katana Decoder HU66 gen2
1pc x Direction Test Key
1pc x Data Reset Tool
2pcs x Replacement  Blades