Autel Robotics EVO 2 Pro Drone 6K HDR Video for Professionals Rugged

Highlights:

1. This bundle includes: This bundle includes 1 X EVO II Pro 6K Drone, 3 X Battery, 6 Pairs Propellers(2 pairs pre-installed on the drone, 4 pairs in the package), 1 Set X Remote Controller, 1 X Landing Pad, 1 X 32GB SD card, 1 X Hard Plastic Case
2. 6k Foldable Drone For Professionals: Autel Robotics proudly presents 6K EVO II Pro drone for professionals. EVO II Pro comes with 1" CMOS sensor, it can take 20 Megapixel still images and 5472*3076 HDR video at 60 FPS. With adjustable f2.8-f/11 aperture and ISO from 100-6400 for video and 100-12800 for photo, it enables professionals to shoot video or taking photo with professional results.
3. Omni-Directional Obstacle Avoidance: Autel EVO II Pro Drone Video Camera comes with 12 optical sensors and 2 sonar sensors that works actively to safeguard your flight all along the way.
4. 40 Minutes Flight Time: With 7100mAh battery, Autel EVO II Pro 6K Foldable Drone provides 40 minutes flight time or 35 minutes hover time. With additional 2 batteries in the bundle, never again miss those beautiful landscapes!
5. 59 Miles Transmission Range: EVO II Pro drone quadcopter further pushes its limits to a transmission range of 9 km/5.59 miles. Not all users will need to travel this far. But it means stronger signal and keeps you connected all the way during the flight.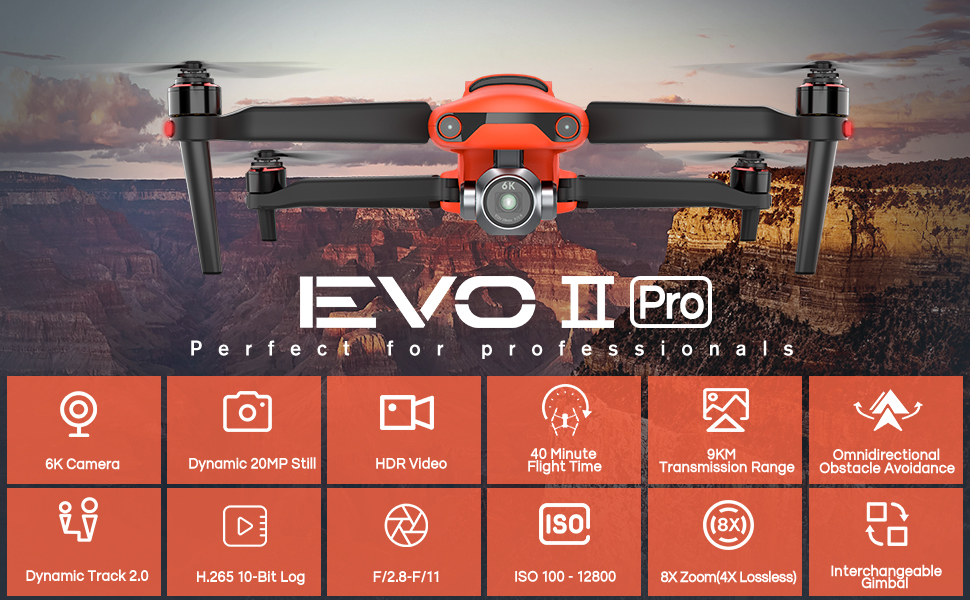 Description:

6K Foldable Drone for Professionals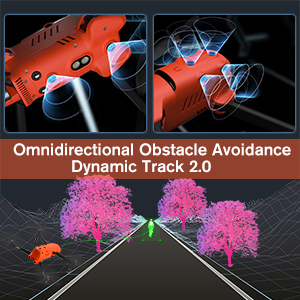 Autel Robotics EVO II Pro is a 6K foldable drone for professionals! EVO II Pro drone comes with 6K interchangeable gimable, 1'' CMOS sensor, capable of capturing dynamic 20MP stills and HDR videos. EVO II Pro provides the longest 40 minutes flight time (35 minutes hover time) in all foldable drones with 7100 mAh battery. EVO II Pro features Ominidirectional Obstacle Avoidance that comes with 12 optical sensors and 2 sonar sensors working actively to detect all important directions. You can adjust the aperture from F/2.8 to F/11 and ISO range from 100-12800 for photo and 100- 6400 for video to capture stunning detail not previously available on a aerial platform of this size. With Dynamic Track 2.0, EVO II Pro is a huge improvement compared to EVO I.

6K Camera, 20MP Stills, HDR Video, 1" Sensor, Interchangeable Gimbal

Autel Robotics EVO II Pro Drone can capture images at resolutions up to 5472*3648 and HDR video up to 5472*3076.

EVO II Pro Drone records 6K video at 30 fps, 5.5/4K HDR video at 60 fps.

With 1" CMOS sensor and 6K camera, there are no limitations.

As the EVO II Series gimbals are interchangeable, you can easily swap over the different cameras and gimbals to transform the EVO II Pro drone to EVO II or EVO II Dual.

Adjustable Aperture & ISO for Professional Results

EVO II Pro Quadcopter comes with adjustable f/2.8-f/11 aperture to create stills and videos with different depth of field and ISO range from 100- 12800 for photos and 100- 6400 for videos with professional results.

40 Mins Flight Time

EVO II Pro Drone camera comes standard with a 7100mAh rechargeable battery, providing up to 40 minutes of flight time in forward motion and 35 minutes at a hover. EVO II Pro also uses patented Battlock system to guard against battery ejection in high-speed maneuvers or hard landings.

With max wind speed resistance up to 39-46 mph(62-74 kph), EVO II Pro simply flies more stable than other drones.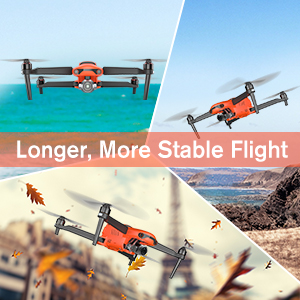 Ominidirectional Obstacle Avoidance + Dynamic Track 2.0

EVO II Pro foldable drone comes with 12 optical sensors controlled by a dual-core processor and AI machine learning, creates omni-directional protection at all important directions. It begins detecting potential hazards at up to 30 meters away and let EVO II Pro accurately control the speed of the drone to avoid a collision. Or you can full control the drone with the 2 sonar sensors providing more information on the environment.

Dynamic Track 2.0

Autel EVO II Pro adopted Dynamic Track 2.0

With Autel patented Dynamic Track 2.0, you can follow subjects autonomously around obstacles at high speeds and watch as AI technology creates smart flight paths in real-time. Dual-core powered object detection recognizes up to 64 subjects at once including people, vehicles, and animals.

Superior image quality in low-and limited-lighting conditions
Supporting video resolutions up to 6K with greater dynamic range, and stronger noise, the EVO II Pro uses the Sony's latest generation of supersensitive CMOS sensor to achieve impressive low-light photography.

Adaptability and versatility for every lighting environment
The EVO II Pro's advanced camera settings include an adjustable aperture range of f2.8 to f11 and a maximum ISO of 12,800 enabling the photographer to produce images of exceptional precision and sharpness.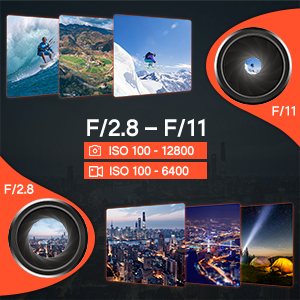 6K HDR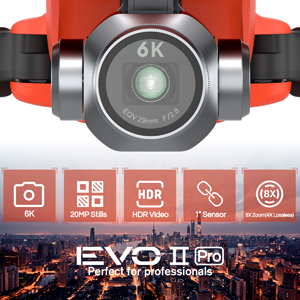 EVO II Pro supports 6K HDR recording to enhance contrast and color.

5.59 Miles Transmission Range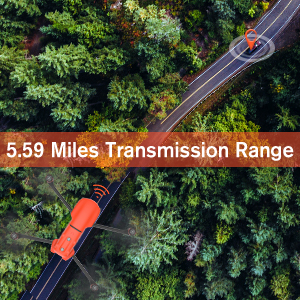 EVO II Pro has a control range up to 5.59 miles(9KM). You probably won't need to fly that far. But a longer range means a strong signal that keeps you connected in crowded urban environments and thick forests.

No Geo-Fencing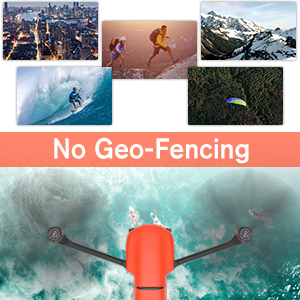 EVO II Pro is still not programmed in no fly zones. Autel leaves that responsibility to the pilot to be aware of any rules and regulations in the area. Please fly legally.

8GB+ up to 256 GB SD card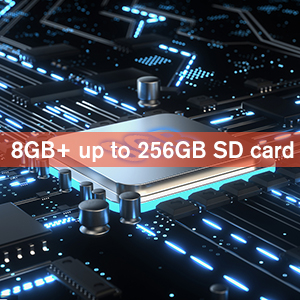 8GB and Up to 128GB Expandable

EVO Pro Drone comes with 8GB built-in memory and supports up to Max 128GB SD card to store those stunning 20MP stills and HDR videos.

Log Color Profile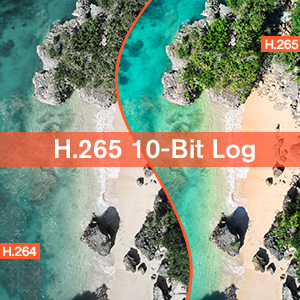 H. 265 10-Bit Log Color Profile for Color Grading

Additional Features

Remote controller with a 3.3" OLED screen
Capture 20MP hi-res stills
Record HDR video at up to UHD 6K resolution
Get a clear image with phase detection autofocus
Capture action in dramatic 120 fps slow motion at up to 2K resolution
4x lossless in-camera zoom
Support for 10-bit A-LOG
Defogging mode
Foldable design for a compact and ultra-portable form factor
Battlock system to help prevent accidental battery ejections during hard maneuvers and landings
Radar feature for more environmental information while manually piloting with avoidance turned off
EVO II Series Camera Specs
| | | |
| --- | --- | --- |
| | EVO II (8K) | EVO II Pro (6K) |
| Sensor | Sony 1/2.3" (IMX586) | Sony 1" (IMX383) |
| Sensor Resolution | 8000 x 6000 | 5472 x 3648 |
| Sensor Ratio | 4:3 | 3:2 |
| Video Format | MOV / MP4 | MOV / MP4 |
| Codec | H.264 / H.265 | H.264 / H.265 |
| HDR Support | Yes | Yes |
| AF Support | Yes | Yes |
| Defog | Yes | Yes |
| Histogram | Yes | Yes |
| 10-Bit Log | Yes | Yes |
| Aperture | f/1.8 | f/2.8—f/11 |
| Zoom | 1-8x (4x lossless) | 1-8x (4x lossless) |
| ISO Range: Video | 100-3200 | 100-6400 |
| Photo | 100-3200 | 100-12800 |