Topdon T1200 Car Battery Charger 6V 12V Automatic Lead Acid Lithium Batteries Charger IP65 Car Motorcycle Battery Charger
Description:
TOPDON TORNADO1200is a smart battery charger for 6V/12Vlead-acidand 12Vlithium-acid batteries up to80amp-hours, with twice the charging speed,5 charging steps, 5 charging modes,light weight, portability, ease of use, compact design andotherextraordinary features,providesahighly safe and reliablesolutionfor charging,repairing,maintainingvarious batteries.
Specification:
Input Voltage AC: 100-240VAC, 50-60Hz

Working Voltage AC: 100-240VAC, 50-60Hz

Efficiency: 85% Approx.

Power: 25W Max

Charging Voltage: Various

Charging Current: 1.2A(12V);1.2A(6V)

Low-Voltage Detection: 1V(12V),1V(6V)

Back Current Drain: < 5mA

Working Temp.: 14°F to 104°F (-10° to 40°C)

Storage Temp.: 0° to 130°F (-17°C to 54°C)

Charger Type: 10 Step, Smart Charger

Type of Batteries: 6V & 12V

Battery Chemistries: Wet, Gel, MF, CA, EFB, AGM & LIB

Battery Capacity: Up to 80Ah (6V&12V);Maintains All Sizes

Housing Protection: IP65

Cooling: Natural Convection

Dimensions:172*71.7*39.6mm(6.77*2.82*1.56 inches)

Weight:465g(1.03 lb)
PACKAGE LISTS:
1*TOPDON TORNADO1200
1*Cable Clamp
1*AC Cable
1*User Manual
This car battery charger has5manually selected charging modesfor6 and 12-voltbatteries,toprovidethe bestpossibleprotection and maintenance, no matter the temperature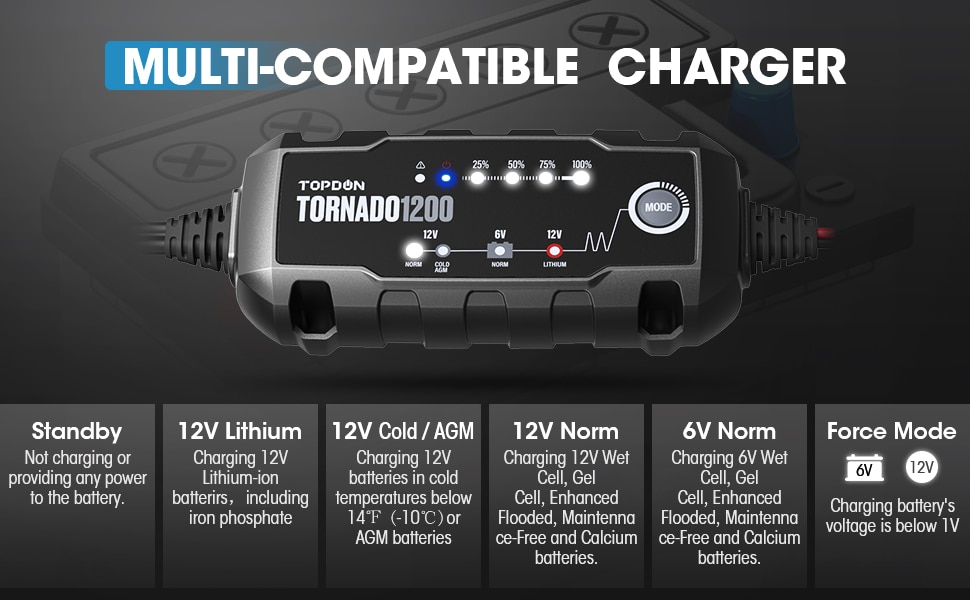 Using a unique charge algorithm,the TOPDON T1Asmarterbatterychargergoesthroughrevolutionary 5steps to constantly read and communicate withthebattery, charging only to its direct needs,and therefore avoiding any
possibility of incorrectcharging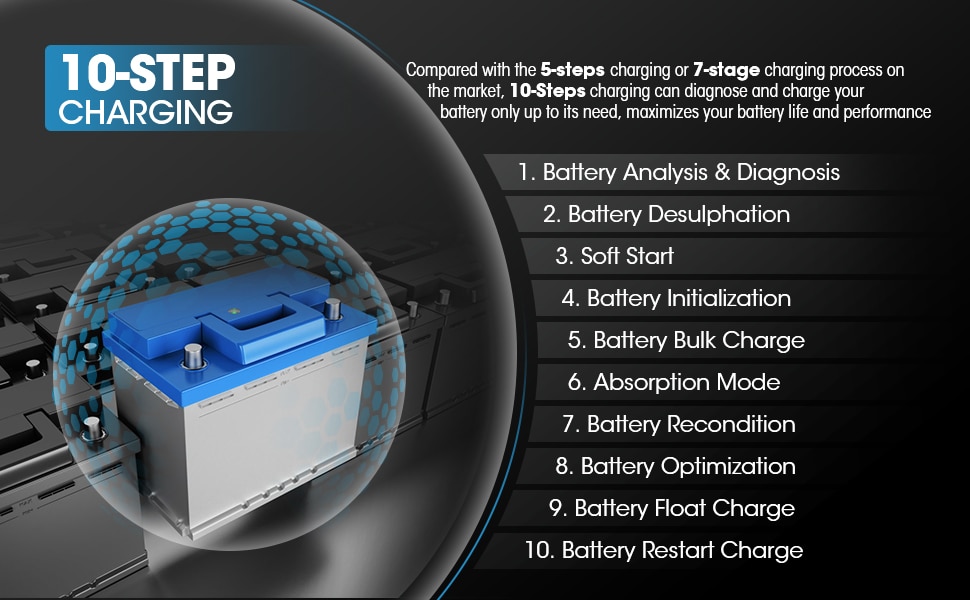 1.Battery Analysis & Diagnosis-Check the battery's initial condition, including voltage, state-of-charge (SOC), and health, to determine if the battery is stable before charging.

2.Battery Desulphation-Use voltage or high-frequency pulses to break down the sulfates that have built up over time in your aging battery, to extend battery life, and optimize battery performance.
3.Battery Bulk Charge - Begin the Bulk charging process based on the condition of the battery, and return 80% of the battery's capacity.
4.Absorption Mode - Bring the charge level to 90% by delivering small amounts of current to provide a safe, efficient charge. This limits battery gassing and is essential to prolonging battery life.
5.Battery Float Charge - Maintain the battery fully charged, without boiling out electrolyte or overcharging, to improve the battery life.