Launch X431 V+ Full System Bi-Directional Diagnostic Scanner and HD3 HD III Truck Module
For both Gasoline and Diesel Vehicles (12V and 24V)
Launch X431 V + Highlights:
Online update free for 2 years
Supports about 150+ car brands and 10000+ car makes from USA, European, Asian and so on.
Supports wifi/Bluetooth connection
Multi-Language: English, Spanish, French, German, Japanese, Korean, Russian, Arabic
Allows you to print our diagnostic data withWifi printer
Same working function as X431 PRO3
Guided Functions + Online Coding + Setting & Changeover + Modification + Offline Coding + Customization + Personalization + Full Bi-directional Control + Over 31 Reset/Service Functions + Actuation Test + Adaptation+ Matching+ Reset + Initialization.
OBD1 & OBD2 daignosis:LAUNCH X431 V automotive tool supports full OBD1 and OBD2 protocols both. It will be shipped as a complete package with necessary connectors and accessories. Some vehicle-specific OBD1 adapters are also included.
Launch X431 V+ New Added Features:
2021 New Add Function For 2017 and later FCA Vehicles with Secure Gateway Module (SGW)
32GB storage capacity + 32GB SD Card (can be extend to 128G RAM with TF card). keep all your customer information, data files, and vehicle records well-organized.
Branded Lenovo Tablet with Android 9.0 system and 5.0 MP Pixel Front & Rear Camera,ease of use, speed, and functionality.
Available to Download any applications, like facebook, Twitter, Tiktok, hotmail, etc,.
Global Version: NO-IP Limited Update,no worry use and update where you are.
Fixed more bugs and Upgrade new car makes up to 2020 models, including cars, SUVs, minvans, 12v light-duty trucks.Expanded vehicle coverage can grow your customer base.
Fixed battery life issue of 2020 year. now lasting nearly 10 hours continuous use on a single charge. improved the battery performance to increase the battery life.
OBD1 & OBD2 daignosis: LAUNCH X431 V automotive tool supports full OBD1 and OBD2 protocols both. It will be shipped as a complete package with necessary connectors and accessories. Some vehicle-specific OBD1 adapters are also included.
2021 New added advanced functions: Windows Calibration + Seats Calibration + Tyre reset + Language Change + A/F Reset A/F + Coolant Bleed + Transport Mode + Adblue Reset + NOx Sensor Reset NOx + Stop/Start Reset
Actuator Test: Injector Test; Turn Off ACC Lane Keeping Assist System (LKAS); Turn ON/OFF Front and Rear side ACM Solenoid, turning the fuel pump on and off, cycling the a/c, clutch on and off, Left clutch electromagnetic coil test, Acceleration Device Test, Oil Pressure Control Test, DYNAMIC camera aiming, Vehicle level position calibration, Brake Vacuum Pump, Inlet and Outlet Valve tests, Open Brakes tests, Parking Brake Botors, Wheel Speed Sensor Supply, PARKING BRAKE tests (Vary by car, Hundreds of actuation test functions).
Key Programming: Add, Delete & Reprogram Keys, Rewrite smart keys, Replace smart key ECU, Replace KNOB IGNITION; Reset Key: Relearn a key.
(Note: this key programming function is NOT universally compatible. please check compatibility with us if necessary. X431 V pro supports PINCode reading for most cars before 2008, for vehicles after 2008, you need to have PINCode to do key programming)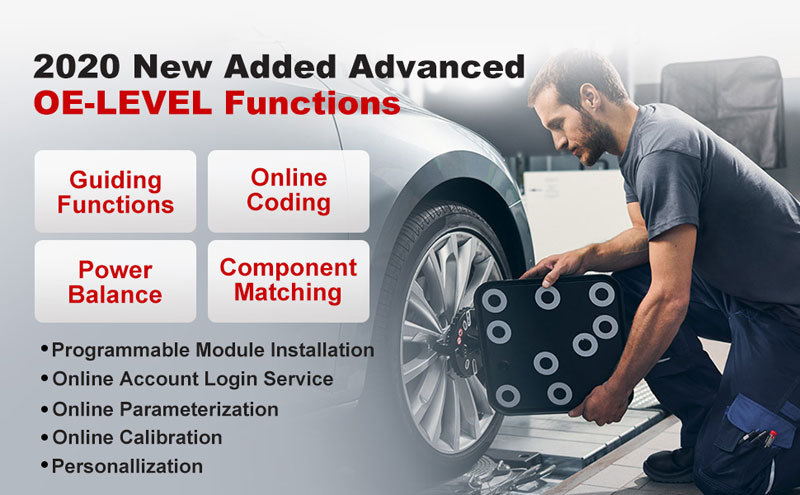 2021 New Added OE-LEVEL Functions of LAUNCH X431 V+
Component Matching: Compatible with VW / Skoda / Seat / BMW / GM / Ford / Opel / Mazda / Fiat / Honda / Nissan / Hyundai / Kia / Subaru etc.
Online Coding: Compatible with VW / Audi / Benz / BMW / Seat / Porsche etc.
Online Account Login Service: Compatible with Volkswagen / Audi / Skoda / Seat etc.
Online Calibration: Compatible with Vw / Audi / Skoda / Seat etc.
Online Parameterization: Compatible with VW/ Audi / Skoda / Seat etc.
Anti-theft IMMO Serivce: Compatible with VW/ Audi / Skoda / Seat etc.
Guided Functions: Compatible with VW / Audi / Skoda / Seat etc.
Power Balance: Compatible with Chrysler / GM / Ford etc.
Programmable Module Installation: Compatible with Ford / Mazda etc.
Flash Hidden Functions: Compatible with BMW / Porsche / Toyota / Subaru etc.
[
Coding and ALL Systems Diagnoses
]

ECU Coding and Auto VIN Tech
This diagnostic tablet supports ECU coding function on a large amount of vehicle models, including Ford and GM, VW, Honda, Toyota and more. It also supports identifying car's information automatically rather than manually.
Because every automobile actuator has a record code in ECU, which is the basis for automobile computer to mobilize their work. LAUNCH X431 V+ is equipped with advanced ECU coding function for addressing the following issues:
1. After you change the bad actuators or certain parts, you need to use this function to make a new code and recognize the new actuators.
2. By changing the code with the ECU coding, it's easy to improve vehicle performance or stimulate high-end functions for the car.
3. ECU coding enables multiple car systems to recognize each other and then the actuators can start to work.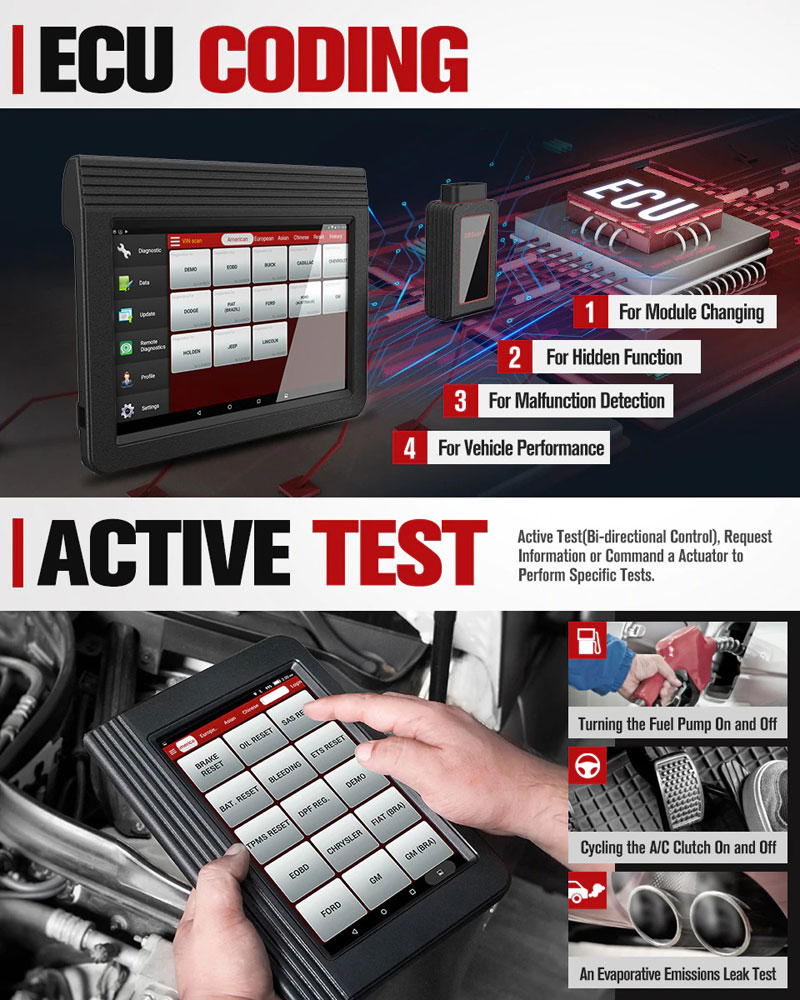 ALL Systems Diagnoses
To diagnose car comprehensively, it can read DTCs and data streams for ALL systems. For instance, Fuel system, Emission system, Transmission, Engine, Body, Powertrain and more. You do not have to buy other tools for diagnosing systems, saving you much time and money from a long term.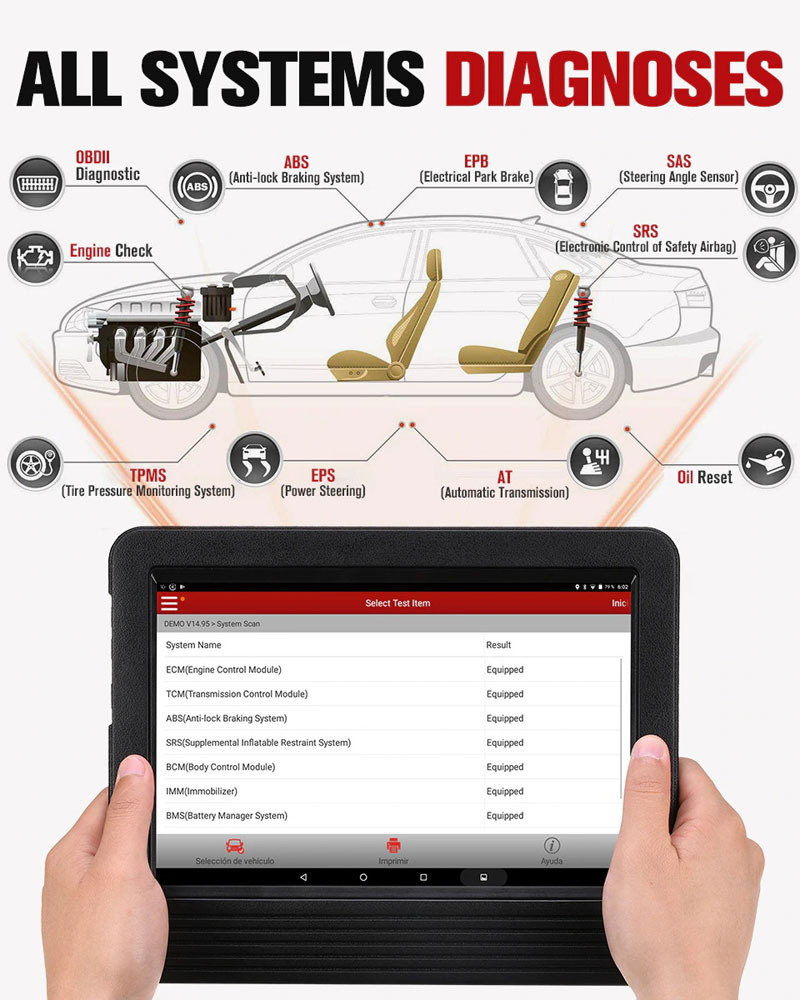 [Full Special Functions]
This diagnostic tool supports11 special services and complete OBD2 functions. The former includes:
l BMS service to reset battery management system;
l Oil reset to reset service mileage and service interval;
l Throttle matching to ensure communication with ECU after replacement;
l Injector programming to let new injectors function well;
l SAS reset to reset steering angle sensor;
l DPF service supports forced DPF regeneration and adjusting injectors;
l TPMS service to relearn TPMS sensors;
l EPB reset to reset new electronic parking brakes for braking wheels safely again;
l ABS brake bleeding to get a firm brake pad;
l Tooth learning to make new crankshaft be used and IMMO (Anti-theft matching) to finish keys coding.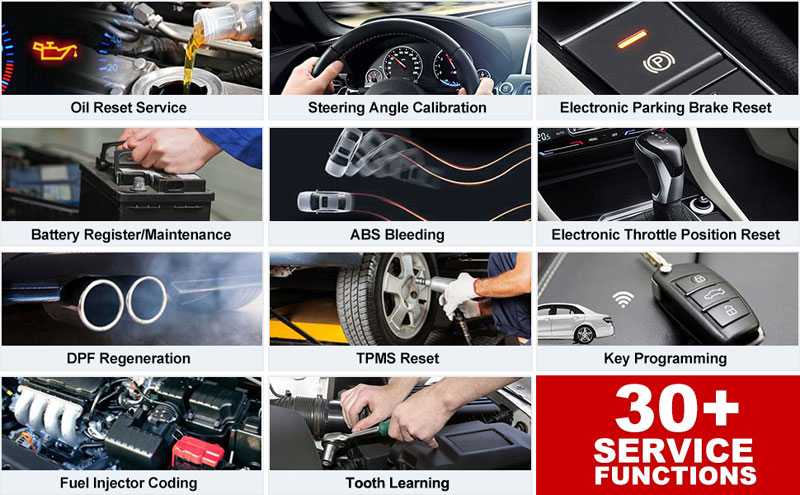 [Wireless Bluetooth Diagnosis]
Different from diagnosing the vehicle via diagnostic cable, this diagnostic scan tool offers the users with much convenience due to the supported Bluetooth connection. Just plug the DBSCarII connector into car, and then connect it with X431V+ through the Bluetooth. You are able to diagnose vehicles directly, either at your workbench or under the hood.

[Advanced Hardware]
You are able to use the diagnostic tool about 4-6 hours continually, which are supported by the 700mAh battery; you can get the ability to see different data in wave like form displayed on the screen at the same time because of the equipped 10.1-in supper touch screen; you can also find the malfunctioned parts directly and solve problems quickly by using this diagnostic tool with a advanced Android5.1 system.

[Additional Capabilities]
Besides various wonderful capabilities in OBD2 functions, special services and full systems diagnoses, this diagnostic tool – Launch X431 V+ provides you with many additional services to facilitate your diagnosis.
Active Test
Active test is to test output elements. You can figure out whether a specific subsystem or component in your car functions well or not by using this tool to make the tester outputs function instead of checking in ignition status.
Technology Backup
You can get remote control tech support from LAUNCH tech team by sending one-click recorded videos and accurate diagnostic results to them. Also, the one-click update online feature is quite convenient.
Launch X-431 HD III Truck Module
X431 HD3 Supported Languages: English, German, French, Spanish, Italian, Chinese, Japanese, Russian
Launch X431 HD3 Functions
Identification of control units
Adaptation of control units
Reset service intervals
Reading vehicle data streams
Display of current system parameters
Check actuators
Reading and erasing vehicle fault codes
Benefits
36 brands of foreign trucks with the possibility of expanding the supported brands
indicators showing the status of the connection in real time
IP65 protection
shockproof case.
Powerful special functions:
Component Replacement, Cylinder Compression Test, Injector Cut Out Test, DPF Regeneration
Communicates with ABS & Transmissions from Bendix, Wabco and Allison
Tech to Tech remote communication function

Supported heavy duty vehicle list:
Europe:
MERCEDES BENZ
MAN
VOLVO
SCANIA
IVECO
DAF
RENAULT
U.S:
Freightliner
INTERNATIONAL
Kenworth
PETERBILT
STERLING
WESTERN STAR
MACK
DETROIT
CUMMINS
Asia:
HINO
FUSO
ISUZU
UD
HYUNDAI
Packing List

1set X431 V+ Diagnostic Tool
1set HD Truck Module


X431 V+ HD III Heavy duty Software: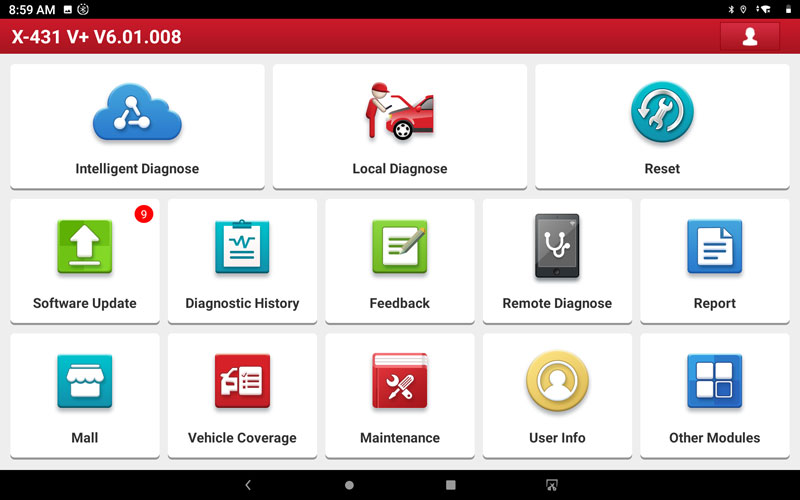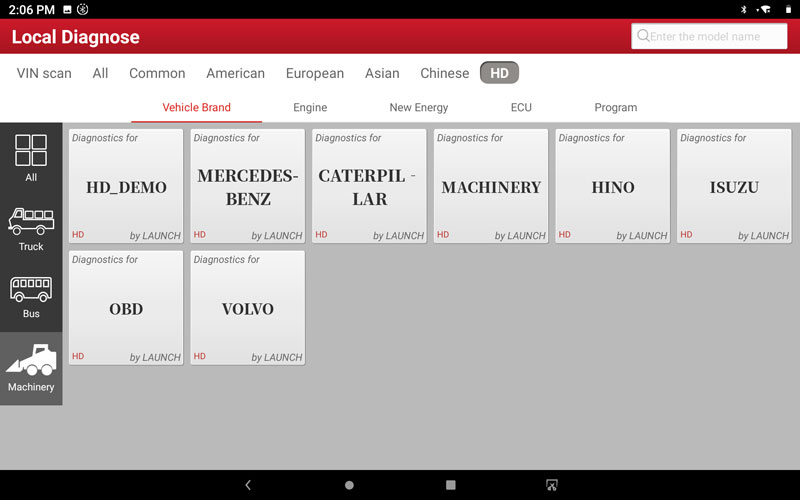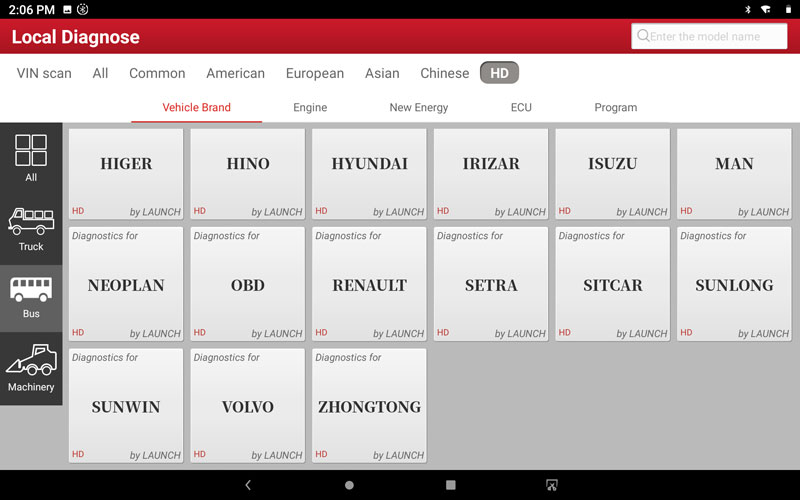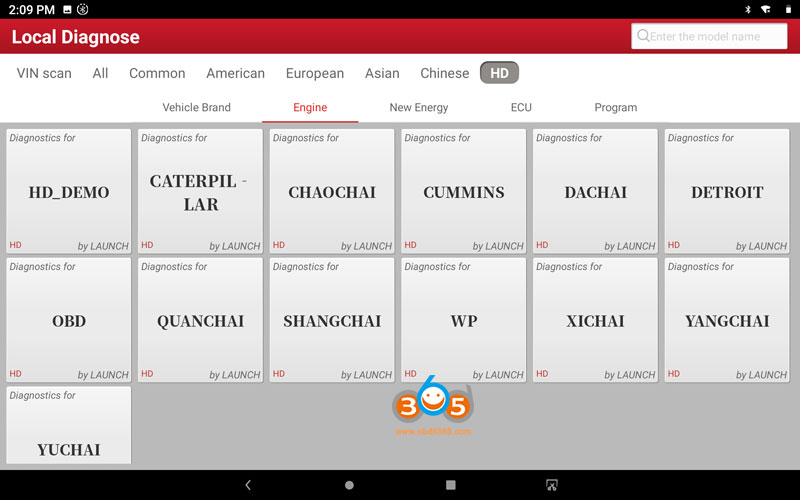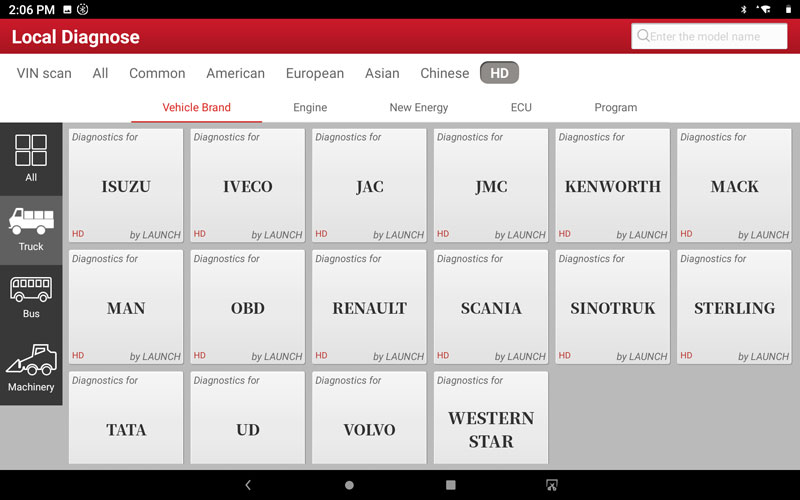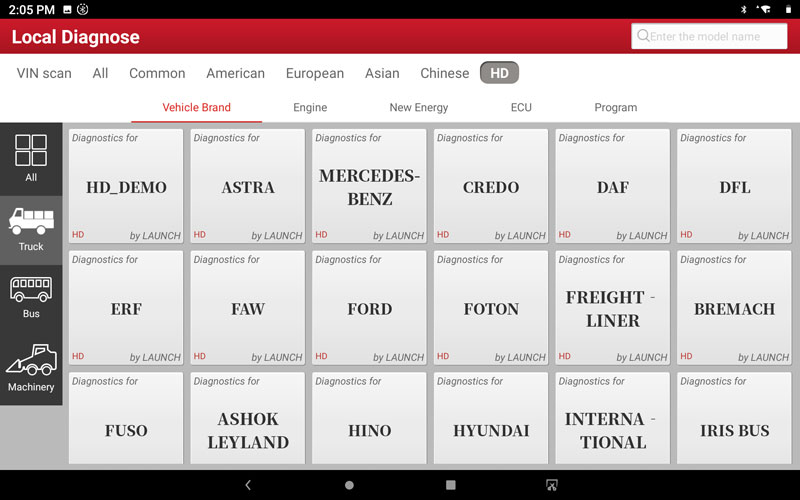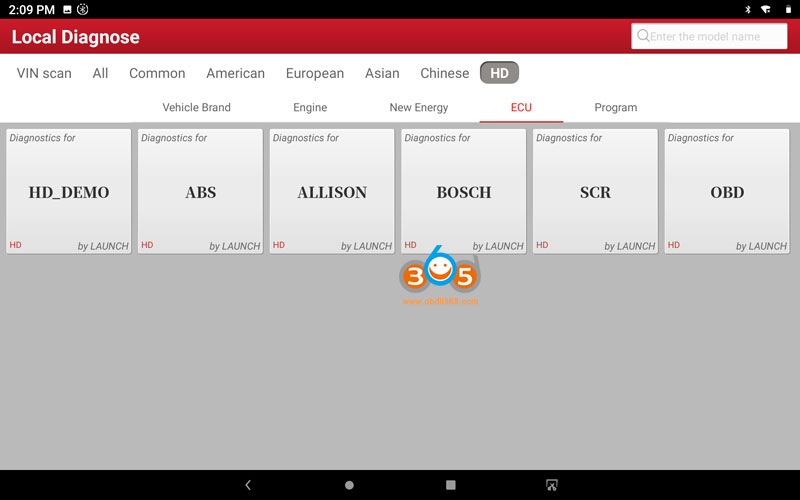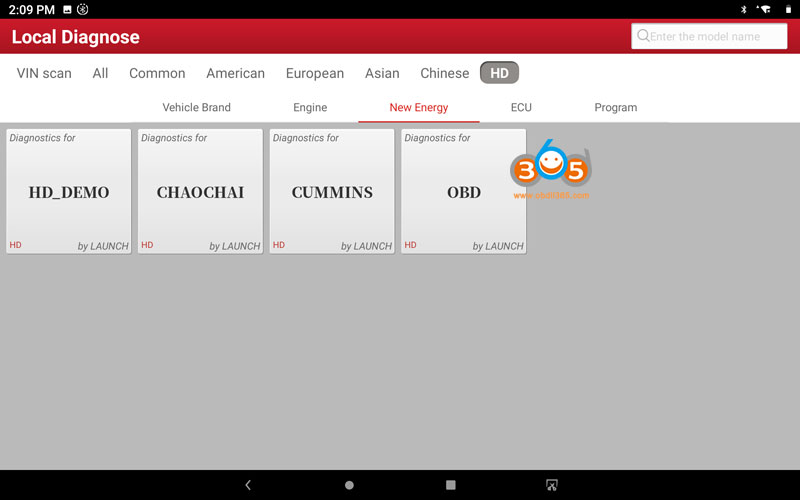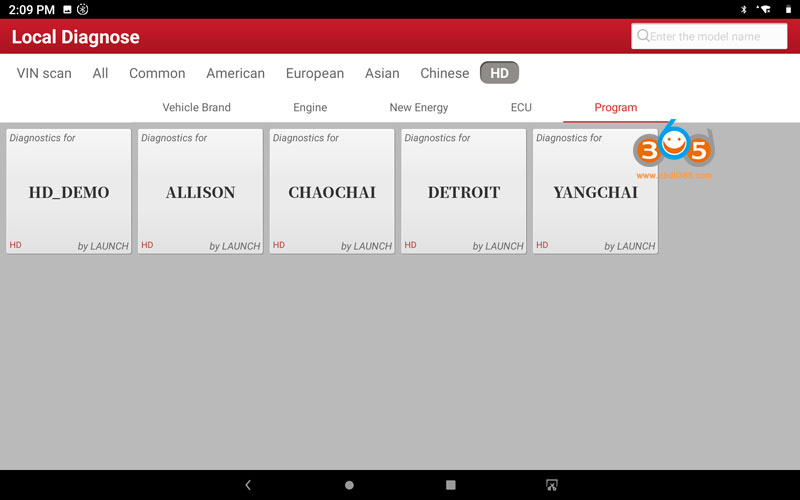 Packing List
1pc x X431 V+host (Lenovo flat).RoHS
1pc x Android edition diagnostic connector (10 meters Bluetooth)
1pc x BENZ-38 diagnostic connector
1pc x DAEWOO-12 diagnostic connector integrated
1pc x AUDI-4 diagnostic connector linear
1pc x BENZ-14 diagnostic connector linear
1pc x BMW-20 diagnostic connector integrated
1pc x CHRYSLER-6 diagnostic connector integrated
1pc x DAIHATSU-4 diagnostic connector linear
1pc x FIAT-3 diagnostic connector linear
1pc x FORD-6+1 diagnostic connector integrated
1pc x GAZ diagnostic connector linear
1pc x GEELY-22 diagnostic connector integrated
1pc x GM/VAZ-12 diagnostic connector integrated
1pc x HONDA-3 diagnostic connector integrated
1pc x KIA-20 diagnostic connector integrated
1pc x MAZDA-17 diagnostic connector integrated
1pc x MITSUBISHI/HYUNDAI-12+16 diagnostic connector
1pc x NISSAN-14+16 diagnostic connector
1pc x SSANGYONG-14 diagnostic connector linear
1pc x SSANGYONG-20 diagnostic connector integrated
1pc x SUBARU-9 diagnostic connector integrated
1pc x SUZUKI-3 diagnostic connector linear
1pc x TOYOTA-17 diagnostic connector integrated
1pc x TOYOTA-22 diagnostic connector integrated
1pc x UNIVERSAL-3 diagnostic connector linear

1pc x OBDII -16 extension 135mm, RoHS
1pc x OBD I Adaptor BOX switch wiring
1pc x LIGHTER
1pc x CLIPPER

1pc x MicroSD card, SanDisk 32G capacity, RoHS
1pc x X431 PIN envelope
4pcs x Clipper fuse 5*20mm
2pcs x Lighter fuse 6*30mm
​​​​​​
1pc x X-431 HDIII Module
1pc x Quick Start Guide
1set x Diagnostic Cables
1set x USB Cables
1pc x Cigarette Lighter
1pc x Battery Clamps Cable
1pc x Adaptor Cable Kit
1pc x Power Adapter